Welcome to the website of the Joker owner's group.
The Joker line of paintball markers are made in Montreal, Quebec Canada and distributed by Diablo Direct. They feature full aluminum construction which gives a solid and well balanced feel to them. Also included are high flow internal components for maximum gas efficiency. There are currently three versions available, the standard Joker with solid anodizing, top cocking bolt, standard 45 grip frame, a bottom line and a 10 inch barrel. Next comes the ACE which adds a fade splash anodizing job and some nice curvaceous milling and a DYE knock off barrel. Lastly is the Joker ACE STP with the same barrel as the ACE but with See Through Porting above and below the bolt as well as horizontal reliefs in the sides and grip. It also features a fade anodize but without the splashing. The weight though roughly a pound more than a Spyder Compact seems better balanced and more comfortable to hold. The barrels are medium bore as well and give good accuracy with the Annihilator paint I purchased from www.PaintballPX.com. damn near anything round works well with this gun though. find what suits your needs best.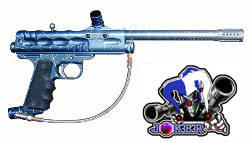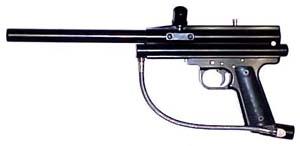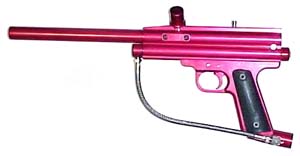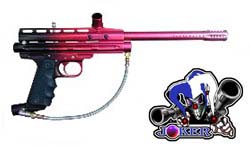 ---
Pete Feathertone JOG #1 aka Mystic76
23 years old, single. I live in Cayuga, Ontario Canada. I work full time as a lumber handler in a pressure treating facility. I'm a car buff into drag and dirt track racing. My current marker is a Joker ACE STP that is currently all stock except for a small length of brass pipe to get some much needed slack in my bottom line hose. Other than that these are remarkable accurate guns out of the box., mine is fade anodized from burgundy to silverish pink. Coming soon will be a Palmer female Stabilizer and maybe a Madman spring kit and a custom made drop forward as well.
ICQ me at 37482440 or drop an email at mystic76@sympatico.ca for more info about the group.
Joker ACE
---
Simon Downs JOG#0 aka burner
19 years old. sooper geek. Student at Sierra College, from Chicago IL. Freestyler Paintballer. i am currently not a member of any teams or clubs, i play as they come with the locals. i am into stock class and pumps. I currently have a Razorback II and a Joker ACE STP. i plan on fabricating a double trigger with a closed second finger, a longer bottom line hose, spring kit, a palmer stabilizer, armson/lapco barrel, grip(?), and maybe if i am feeling saucey, a under barrel setup. please email or get in contact somehow if you have some mods/technical stuff about jokers. I'm trying to make this site as informative as possible so please email me or Pete Feathertone so we can make this site more kick ass than what it already is.
ICQ me at 2154011 or hit me up with a email at bigmamma@jackscafe.com
Joker STP
---
Mike Gamboa, Jr.: JOG#2 aka Knuckles

16 year old paintball ninja -=^_^=- from Los Angeles, CA. I ehem hem... make money selling legal backups of games and applications to people. I go paintballing whenever I've got any spare money (and time) to burn. I own a Joker ACE that's all stock right now, but I do plan to add a sweet little regulator onto the
gun. Uhmm.... nuff said ; )

ICQ me at 6665827 or send me mail at knuckles@flashcom.net
joker ace
---
if you are interested in becoming a member send your info
and pics tO US